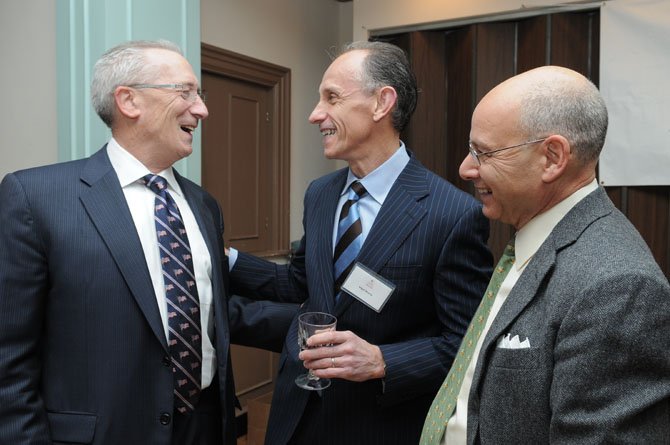 On Friday, November 02, 2012, Volunteer Alexandria hosted The 18th Annual Evening in the Heart of Alexandria at Gadsby's Tavern Ballroom in Old Town. Evening in the Heart of Alexandria is a tribute to all who give from their hearts to volunteer in the city of Alexandria. Each year Volunteer Alexandria recognizes members of their community who contribute extraordinary service, impacting the city as a whole. This year Lyles Carr, Senior Vice President at The McCormick Group, was honored with the Marian Van Landingham Lifetime Service Award.
Leading by example in Alexandria, Lyles has demonstrated a lifelong commitment to volunteerism and community involvement. Perhaps more importantly, Lyles has inspired hundreds of others to serve their community as well. Lyles currently serves on the boards or advisory committees of Volunteer Alexandria, ACT for Alexandria, The Economic Club of Washington, The District of Columbia Workforce Investment Council, The Greater Washington Board of Trade, Community Wealth Ventures, Commonwealth Academy, theatreWashington, and The Heart of America Foundation. Lyles was instrumental in the early development of important Alexandria programs including the Scholarship Fund of Alexandria, ACT for Alexandria, and Spring for Alexandria, along with many other community efforts.
Volunteer Alexandria, 123 N. Alfred Street, First Floor, Alexandria, VA 22314, is a 501(c)(3) nonprofit organization with a mission to build a better community by inspiring and mobilizing people to volunteer. Volunteer Alexandria believes that through volunteer service people have the capacity to enrich their own lives and improve the quality of life in Alexandria, and that an active volunteer community creates an environment in which all people thrive. For more about Volunteer Alexandria and their programs visit www.volunteeralexandria.org.
---
Image source | Connection Newspapers